Hot Line Construction, Inc.
Customer Spotlight

High voltage construction fleet saves big money with real-time insight.
Hot Line Construction, Inc. is dedicated to service, safety and environmental responsibility. From its headquarters in Brentwood, California, and its four other locations across the state, the company is poised to assist with largescale natural disasters as well as maintain the state's utility networks.
More than 90 percent of the company's work is high-voltage utility services. Its mixed fleet of 800 specialized vehicles goes wherever, whenever they're needed. Fleet managers need reliable GPS vehicle coverage at all times, and a mobile-friendly platform to monitor and manage it all.
Having been with us for five years, Hot Line Construction's contract with Zonar was up for renewal. First, the company needed to make sure Zonar is still the right provider. And we worked with them to demo our latest solutions, starting with the major updates we've made to Ground Traffic Control.
Fleet managers now remotely track 800 vehicles on a single, mobile-friendly, online platform.
Hot Line Construction fleet managers are in the field more than at their desk. They need a smart fleet management solution that fits on their mobile devices. Above all, they need enhanced mapping and vehicle tracking to locate and monitor each of the fleet's 800 vehicles across widespread and even remote locations; a job built for Zonar Ground Traffic Control.
With this web-based solution, fleet managers use the same functions and features on iOS and Android devices as they do on desktops. Now, they easily ensure every truck is at the right place, at the right time—even when they're away from their desk.
Three trucks stolen, three trucks recovered—one worth more than $400,000.
During the demo phase before contract renewal, three company trucks were stolen from three jobsites. Because web-based Ground Traffic Control is mobile friendly, Hot Line Construction's fleet managers were able to track and recover each truck.
One truck was valued at $300,000 and had $100,000 worth of equipment on board. The thief who stole it was a member of a crime ring that regularly stole commercial vehicles and took them to chop shops.
As soon as the truck was stolen, fleet managers started tracking it online, and communicated its moment-by-moment location and heading to their crews, who worked with law enforcement. They set up a roadblock and caught the thief before the truck was lost forever.
Then the crew took their recovered truck and went back to work.
Now they catch defects online, across their mixed fleet.
Hot Line Construction's 800-vehicle fleet consists of pickups, cars, cranes, powered trailers, and Class 4, 5 and 6 trucks. All of which go where they're deployed: cities, suburbs, rural communities and remote, harsh environments. Breakdowns are not an option.
Fleet managers took the opportunity to work with Zonar and demo Zonar FaultIQ powered by Noregon, which enables authorized personnel to remotely monitor vehicle health—all makes, all models, all major components. Fleet managers, shop technicians and mechanics can access the vehicle health data through Ground Traffic Control.
"We have a handful of mechanics and a ton of trucks," says Justin Brands, company fleet manager for Hot Line Construction. "And you prioritize everything off of the red dots, the worst of the worst."
Now, through Ground Traffic Control, they look at a map and see what's going on with their trucks instead of checking each one in the yard.
Brands continues, "If there's a truck with an A/C issue or a taillight issue or the beginnings of an engine issue, you can address it then and there rather than wait for it to get written up, or caught in the scale, or progress to something worse."
Plus, fleet managers quickly recognize the status of every tool outside and inside the truck—which has already saved Hot Line Construction tens of thousands of dollars and was a key reason for choosing Zonar.
One simple insight spared them a $40,000 engine replacement.
Hot Line Construction typically replaces one truck engine every year due to a critical failure. Even in the solution's demo phase, FaultIQ showed fleet managers that one particular vehicle's coolant was low. The driver thought he could make it the five miles to the yard, but they could tell otherwise and told the driver to park so they could address the issue.
If they hadn't seen inside the vehicle's engine and identified the problem, that engine may have needed to be replaced—to the tune of about $40,000. Savings which will add up year after year as FaultIQ helps them avoid preventable engine replacements.
Brands sums it up. "FaultIQ has been a huge money saver, time saver, [and] frustration saver because now we know what's wrong with the truck before the driver even knows. Which is saving us from further repairs and progressive damages."
GPS tracking protects drivers and vehicles during natural disasters.
Mudslides, wildfires, earthquakes, floods, storms—California runs the gamut of natural disasters. And Hot Line Construction crews are in it, working to protect and restore services.
Plus, Hot Line Construction sends crews to other states to provide assistance, such as during Hurricane Sandy.
Fleet managers use Zonar's reliable GPS tracking and online mapping to locate vehicles and their drivers, even in dangerous conditions such as in the middle of a wildfire. Now, they can find their people and make sure their vehicles make it back. All online, using Ground Traffic Control.
Alerts keep fleet managers in the know, even in the field.
Hot Line Construction takes pride in its safety record and understands the importance of safe driving.
Fleet managers set alerts in Ground Traffic Control to proactively help drivers operate safely on the road. For example, they receive alerts when a driver speeds outside a defined, acceptable threshold.
Most infractions are minimal and accidental, and they coach those drivers after the fact. However, if there's a more immediate need for coaching, they know about it almost instantly and can contact that driver almost immediately.
The partnership continues.
Hot Line Construction has renewed its contract. According to Brands, Zonar is now a mission critical part of their operation. "Makes you proactive instead of reactive."
When asked if he'd recommend Zonar to anyone else, he responds, "Absolutely. You guys will do what it takes to make it work. We've seen that firsthand. You did everything right to make it successful for all of us. I like that you let us try stuff out before we buy it. It was nice just to have the knowledge of what else was available."
We're not a big company. But you treated us like we're your biggest account. And I appreciated that."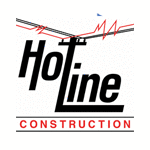 Organization
Hot Line Construction, Inc.
Industry
Construction
Location
Brentwood, California
Website
Operation
Solution
Zonar Ground Traffic Control®
Zonar V4™
Zonar FaultIQ®
Zonar ZTrak®
Benefits
Reliable, mobile-friendly fleet tracking
3 stolen trucks recovered, 1 valued at $400K
Predictive maintenance
Avoided replacing a $40K engine
Greater efficiency for fleet managers
Real-time alerts