Detroit Connect® Analytics Unlock data-driven insights and intelligence
Optimize
vehicle and driver performance
Reduce
costly driving behaviors
Capture
data from
safety systems
Exclusive Detroit Connect Analytics aftermarket provider
Working with our Daimler partners, Zonar's proven OEM telematics platform has been extended to enable the Detroit Connect platform with their new Analytics service. This product provides you with critical fuel and safety information for your fleet of Daimler trucks that helps you cut costs and improve safety behavior.
Improve the fuel economy of your Daimler trucks
Detroit Connect Analytics provides you with in-depth analysis, detailing more than a dozen factors that affect your fuel economy. Identify the specific behaviors, trends and root causes of changes in fuel efficiency, so you can address them quickly and correctly—for a single vehicle or across your fleet. We'll even provide you with a fuel economy score for each vehicle based on its configuration as well as algorithms developed by Daimler Trucks North America and Detroit experts—letting you know which vehicles are in most need of improvement.
Fuel performance data analyzed
Fuel economy
Engine speed
Idle time
Cruise control
Engine power
Integrated powertrain performance
Driver interaction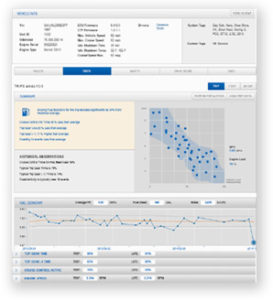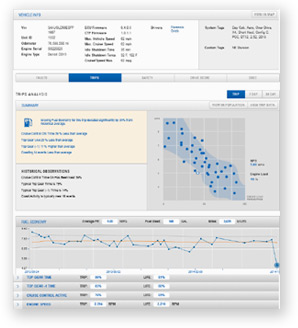 Identify and reduce safety issues across your fleet
Detroit Connect Analytics collects data from your Detroit Assurance® suite of safety systems and converts it into an easy-to-understand format. Get a comprehensive overview of all safety events across your fleet or drill down even further to a particular vehicle or event. You'll also be able to view a ranked list of your vehicles and provide a safety score— weighted, based on your fleet's own safety priorities. On-board sensor readings are captured from 15 seconds before a fault event occurred to 15 seconds after specific events, letting you know what to focus on in order to improve a driver's behavior. Analytics safety data can be viewed for a single trip, single vehicle, or your entire fleet over different periods of time.
Safety data reported
Collison mitigation braking
Lane departure warning
Distance violations
Speed violations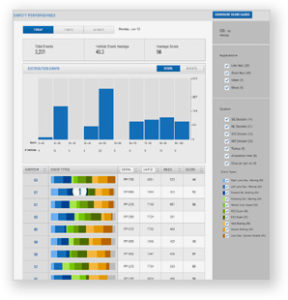 Features and Capabilities
Integration into the Detroit Connect portal
Interactive and on-demand reporting
Vehicle fault code records
Fuel economy scoring
Vehicle safety scoring and rank across fleet
Export data for additional analysis