Protect your fleet health like it's your own.
Vehicles in motion keep your fleet moving. Keeping them moving means maintaining each one in peak operating condition with diagnostic technology that goes the extra mile. A complete, connected solution that monitors key components and performance metrics, and alerts you to faults before drivers and operators even realize there's an issue. When each vehicle performs at its full potential, so does your fleet.
Zonar Fleet Health is your key to high-performing vehicles.
Ensure uptime
Well-maintained vehicles spend less time in the shop and more time getting the job done. Zonar Fleet Health is your upper hand to close performance gaps, so each vehicle works at its peak.
Prevent accidents
Diagnosing and addressing minor issues early prevents dangerous breakdowns. Fleet health protects more than vehicles; it also protects drivers, operators, riders and the public.
Extend lifespan
Take care of each vehicle for higher performance over a longer period of time. Identify minor issues before they become critical, and avoid progressive engine damage.
Imagine every vehicle performing at its best.
We partner with industry-leading original equipment manufacturers (OEMs) that create the engines that power your vehicles. They understand their engines and technology; we work with them to provide you proven solutions so you have the insight needed to manage and maintain your fleet's optimal health. Every fleet type, size, mix and industry—we partner with the industry's best so your fleet can be its best.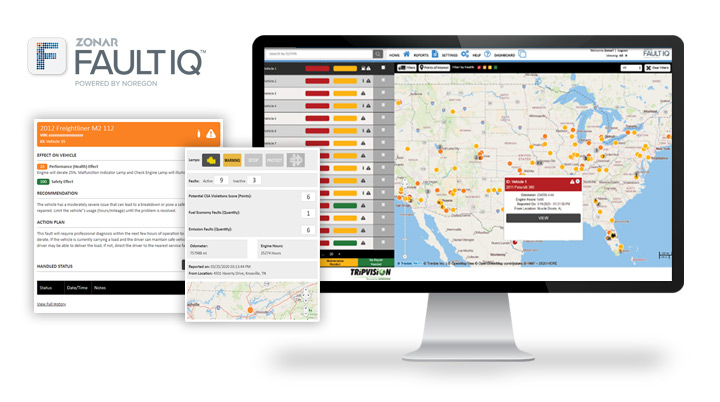 Monitor your fleet in real time.
Diagnostic data can be hard to understand, which makes determining the severity of each code and prioritizing maintenance difficult. Zonar FaultIQ®, powered by Noregon, is an all make, all model, all component diagnostic software for medium- and heavy-duty vehicles, regardless of manufacturer. Easily access the information necessary to understand and manage fleet health more effectively.
Maintain overall fleet health with:
an understanding of each vehicle's overall health, not just its engine
a snapshot of your entire fleet on a single dashboard
Health and Safety Scores for each vehicle, color-coded based on severity
recommended action plans based on input from ASE-certified technicians
Install updates over the air.
Calibrating engine control modules (ECMs) previously required visits to the shop, which caused logistical hassles and days of downtime. With Cummins Connected Software Updates, now available through Zonar OTAir®, drivers can perform engine software update when it's convenient for them—in as little as 5 minutes. Available on Android and iOS devices. No in-cab hardware required.
Maximize uptime, minimize disruption with:
over-the-air updates that can be done in as little as 5 minutes
update installations that can be performed in the yard or on the road
automatic software rollbacks if there's an issue with the latest update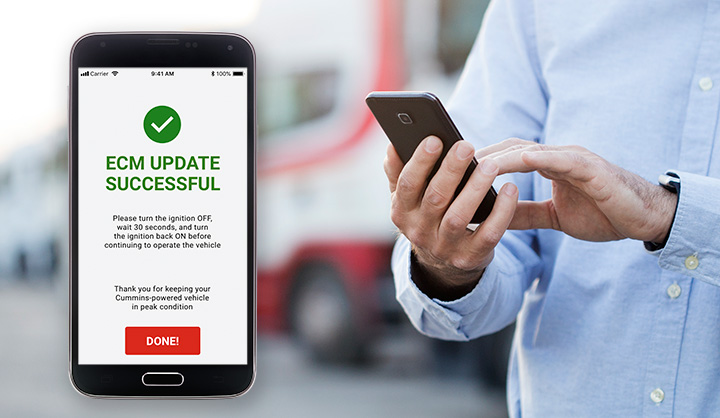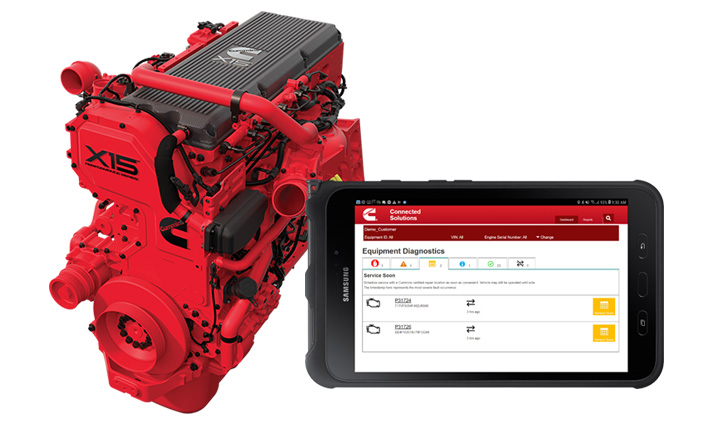 See inside your Cummins engines.
If your fleet features Cummins engines, you probably have a direct line into their engine data. Connected Diagnostics™ and Connected Advisor™ deliver critical information to avoid progressive engine damage and reduce expensive maintenance charges.
Protect your investment with:
expert analysis for the most accurate service recommendations
effective, detailed guidance to minimize vehicle downtime
fewer, prioritized reports that feature better information
Zonar is a participating telematics provider for compatible Cummins engines.
Keep Detroit-powered engines purring.
Make informed service decisions within minutes of a fault event. Detroit™ Connect Virtual TechnicianSM and Connect Analytics work together to inform you when service is needed, how severe the issue is and the recommended plan of action. Plus, improve safety and efficiency with optimized fuel analytics and driver interaction reporting.
Understand your truck's health with:
clear communication of each thrown engine fault
expert analysis by Detroit Customer Support engineers
suggestions for the closest service outlet with required parts in stock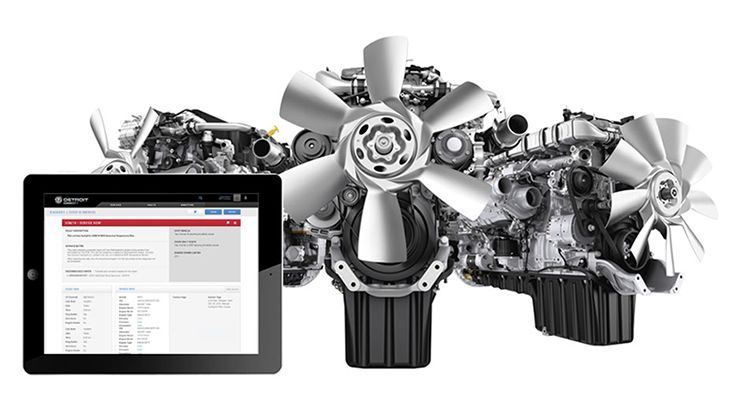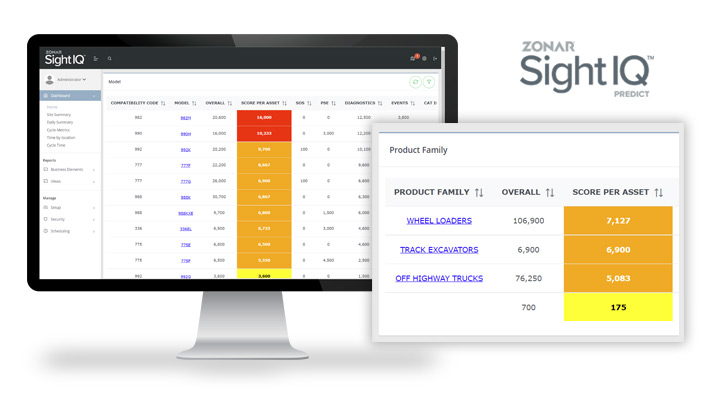 Protect asset health—and your bottom line.
Aggregate, quarry, mine, construction or pits—Zonar SightIQ delivers actionable insight into asset health across locations, all on one platform. See a complete, real-time view into asset health, regardless of make, model, year or manufacturer. Keep expensive assets working longer and see what needs attention sooner using remote, real-time diagnostic data.
Mitigate the impact small issues have on operations by:
addressing them before they turn critical
preventing unexpected, prolonged downtime
ordering parts ahead of time to minimize wait
avoiding deploying faulty equipment and machines
On board with Navistar OnCommand Connection.
Navistar is renowned for its IC Bus® lines and its series of International® Trucks. Zonar sets the standard for quality, comprehensive data sets for vehicle monitoring and maintenance.
Through this partnership, you can use OnCommand Connection to access the comprehensive diagnostic data pulled through Zonar TCUs across your mixed fleet. OnCommand Connection links an entire fleet with one portal—all makes, all models—to streamline operations. And Zonar TCUs serve as access points for OnCommand Connection to retrieve vehicle data. Learn more, then speak with a specialist to turn on this service.