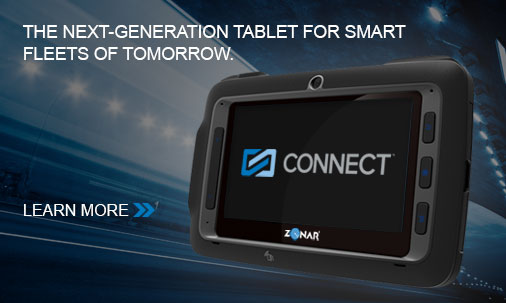 ELD-Ready Smart Fleet Tablet and Seamless Software Platform Allows Fleets to Customize and Upgrade for Future Growth
Seattle Wash. – October 1, 2016 – Zonar, the leader in smart fleet management technology, today announced Zonar ConnectTM, a next generation tablet and software ecosystem that empowers commercial fleets to take greater control of their operations. Connect allows fleets to seamlessly enter the next era in fleet management technology using a smart fleet platform which is faster, more responsive, readily customizable and more user-friendly than current solutions in the commercial fleet marketplace. This ruggedized, high-performance, easy-to-use tablet delivers management tools for commercial vehicle operations including compliance, safety and efficiency monitoring.
"We are entering an age in connected commercial vehicles where the capabilities go beyond the individual vehicle and extend to fleet management and industry decisions regarding job bidding, safety, efficiency and compliance," said Ian McKerlich, President of Zonar. "Connect is designed to exceed industry needs with Electronic Logging Device (ELD) readiness, Electronic Verified Inspection Reporting (EVIR) and a growing number of apps built in a scalable environment to address needs further down the road. We believe that Connect is the path forward for designing and delivering the next generation of solutions for the smart fleet management era."
Connect is always connected whether it is docked or undocked representing a significant milestone in smart fleet management. For example, a driver can submit a completed EVIR inspection back to dispatch without returning to the cab of the truck. The tablet-based platform further connects vehicles, driver/operators and fleet managers with critical information such as vehicle health, efficiency, driver hours of service, performance, data capture, compliance, safety and asset utilization.
"Just as smartphones have become an integral part of our daily lives, you soon won't be able to run your fleet operations efficiently without a smart fleet technology like Connect," said Brett Brinton, co-founder and CEO of Zonar. "Connect will help operators manage their fleets more effectively as technology changes with hardware that supports over-the-air updates to give them greater flexibility and scalability to grow."
Connect has the ease of use of everyday consumer devices with the power and ruggedization needed for commercial vehicles. With it, drivers and operators can streamline daily tasks, such as pre- and post-trip inspections; hours of service logging with Roadside ViewTM for compliance inspections; communicating with fleet management; documenting deliveries; navigating routes and – in the case of passenger services – verifying ridership. The tablet also equips drivers and operators with tools that ensure adherence to a broad range of safety and compliance regulations.
Key features:
Powered by a Quad-Core processor, 2GB of built-in memory and 32GB of storage for enhanced speed and responsiveness
Scalable Android™ platform supports options for third-party and custom Zonar apps to increase driver productivity and fleet compliance
Compliant with Automatic On-Board Recording Device (AOBRD) and Hours of Service regulations
Ready for the Electronic Logging Device (ELD) mandate with capability for over-the-air software update service
LTE, Wi-Fi and Bluetooth connectivity keeps drivers connected to fleet managers, dispatch and operations
Constructed with a ruggedized hardware design and a DragontrailTM Glass screen to endure harsh conditions
Seamlessly integrates with Zonar's Ground Traffic Control® web portal and third-party programs including maintenance, payroll, navigation, workforce management software and more
"Zonar Connect tablet and platform represent an extremely compelling offer for fleet managers across a variety of industry verticals," said Clem Driscoll, president of consulting and research firm C.J. Driscoll & Associates. "It's a very rugged, state-of-the-art piece of hardware connected to a software ecosystem that offers new flexibility for customers to add third-party apps and upgrade easily as technology advances. It's clear that Zonar listened to customers and upgraded an already-compelling product based on what they learned."
For more information on Zonar Connect visit: www.zonarsystems.com/connect
About Zonar
Founded in 2001, Zonar has pioneered smart fleet management technology by providing innovative technology that has changed fleet operations in the vocational, pupil and commercial trucking industries. With a unique focus on this field, the Company offers a complete suite of solutions and specialized platforms for our customers in multiple markets. Our patented, award-winning technology keeps fleet owners and managers connected to their fleets and drivers to dispatchers. Headquartered in Seattle, Zonar also has a Technology Development Center in downtown Seattle, a regional office in Cincinnati, and a distribution center outside of Atlanta. For more information about Zonar Systems, go to www.zonarsystems.com