Cowboy State Trucking
Customer Spotlight

Safety, support and service come standard with every haul.
Cowboy State Trucking transports dry bulk and liquid commodities throughout the Rocky Mountain region. Most of the 4 million miles the carrier covers annually are in its home state of Wyoming, known for hazardous driving conditions. Yet, year after year, this carrier has won awards for its safe, reliable operations.
With 36 trucks, 120 trailers, 30 full-time drivers, and numerous owner-operators, Cowboy State Trucking depends on its smart fleet management solutions. However, since being acquired, the existing on board ELD service had deteriorated.
Dissatisfied with the decline, Chief Operating Officer Deon Bunker looked for a new provider who delivers the support and modern functionality his fleet needs. What he discovered was that Zonar smart fleet management and mobility solutions meet every requirement—and then some.
Streamlined, electronically verifiable vehicle inspections for safe, healthy trucks and lower CSA scores
Reliable customer support that solves problems quickly
Digitized inspection records and work orders that require less physical storage space
Enhanced dispatcher-to-driver efficiency
Easier sharing of route dispatch assignments to support more loads
Partnerships with Squarerigger Software and McLeod Software for seamless integrations
A CSA score of 76 became 12.
Cowboy State Trucking is committed to keeping a low CSA score. Introducing Zonar EVIR to standardize and electronically verify required vehicle inspections enabled the fleet to lower its CSA score from 76 to 12 within a few months.
A low CSA score keeps the carrier competitive during contract negotiations. And insurance carriers take it into consider when quantifying risk management. As Bunker puts it, "That low CSA score really helps us keep insurance costs in check. Not to mention that if the score gets too high, your operation can be shut down."
Accurate inspections now take less time.
Before using EVIR, drivers used a paper-based inspection system, which Bunker describes as, "a very slow and tedious process." Managers and maintenance staff couldn't tell if any part of the inspection was rushed. Unlike paper-based inspections, EVIR speeds up the process, reduces errors and digitizes the results.
Zonar inspection tags are placed on each inspection zone.
Drivers physically scan each tag when they inspect that zone's components.
As they inspect the truck, drivers mark defects, add notes and capture photos.
Each zone inspection is date and time stamped to show how long it took.
When they're done, drivers upload the results into the fleet management platform.
"By verifying that a driver has visited each zone, we're able to hold drivers accountable," states Bunker. "Now inspections are getting done correctly and in a timely manner, instead of getting lost. And management has visibility almost in real time."
Record retention went from paper to almost paperless.
On top of the paper-based inspection system's inefficiency, retaining the records as required cost money to store in a physical location.
EVIR digital record retention complies with regulatory requirements, eliminating the need to store paper copies. Bunker recalls, "We were just building boxes upon boxes of documents and having to manage that. Now, we're almost paperless."
Old-school and new-school drivers embrace EVIR.
Paper-based inspections are prone to normal human error. When Cowboy State Trucking deployed EVIR, younger drivers accepted new technology easily, but Bunker's experienced drivers were skeptical. "Some of my drivers have been here since the 1980s. They're old school."
They take pride in their work. However, these drivers saw how much time EVIR saved when used it. Shorter inspections and fewer mistakes meant more time to do the rest of their job.
12 minutes from reported to reviewed.
The time between entering a defect into EVIR and a mechanic reviewing the report is now only 12 minutes.
I would never think about using another company's solution if it meant losing EVIR. That, plus its maintenance workflow solution and the outstanding customer support is why we stay with Zonar.
Deon Bunker | COO, Cowboy State Trucking
When using paper-based inspections, drivers manually wrote defects on the form, then turned it in to the maintenance shop, where Bunker recalls, "Hopefully it wouldn't blow off someone's desk or get lost." Only sometimes it did.
Bunker wanted the new provider's inspection technology to integrate with the Squareriggger maintenance platform to streamline maintenance work order creation. As partners, Zonar and Squareriggger Software solutions integrate seamlessly, with the Zonar open API relaying information to the maintenance platform.
When inspections are complete, defects and issues are now uploaded directly to the maintenance platform, where technicians review and prioritize them. And with less physical paperwork.
OOS trucks are easily ID'd.
When a truck is pulled for repairs, its status is displayed in Zonar Ground Traffic Control. Mechanics check to see what jobs need to be done to get those trucks ready to haul again. Drivers and dispatchers see which trucks are out-of-service (OOS) and avoid accidentally trying to deploy one.
Bunker recalls, "In years past, there was always a risk that a driver would jump into a truck that needed service. That isn't a problem anymore."
Cummins partnership prevents unplanned DPF downtime.
When enough soot builds up inside a truck's diesel particular filter (DPF), the driver must pull over and initiate a DPF regeneration. This can take up to 40 minutes that could have been spent on the road.
Cummins advanced diagnostics monitors the engine data pulled by the Zonar V4 TCU. And alerts Cowboy State Trucking when a DPF needs attention before a driver takes that vehicle on a haul. This alert system prevents trucks from leaving the yard and potentially shutting down in the middle of a run.
One report automates two essential calculations.
The Mileage By State report within Zonar Ground Traffic Control summarizes the distance traveled within each state, for each vehicle. This automatically captured data streamlines IFTA reporting and ensures drivers are paid appropriately.
IFTA reporting is simplified.
Automatically calculated totals provide essential data such as asset state mileage totals, asset combined total, and total fleet mileage. All of which make IFTA reporting easier and more accurate. Less risk, and less money left on the table.
Drivers are paid appropriately.
Bunker's team verifies when a truck enters and leaves a location. With precise data, they ensure drivers are paid for accurate detention times.
Trucks and time are put to better use.
Detailed fleet visibility plus Zonar data integration with McLeod Software solutions enable more load assignments, faster. When an ad-hoc delivery is available, dispatchers find the nearest available truck in Zonar Ground Traffic Control and assign the load.
The same visibility helps keep business moving when a truck breaks down.
Backup is deployed faster.
No matter how healthy any fleet may be, trucks will occassionally break down. Before using Zonar solutions, dispatchers literally dialed phone numbers or got on the radio to find the closest driver. Now, they locate and send the nearest available replacement to pick up the load and keep it moving.
Customer support is always a call away.
Zonar has grown since Cowboy State Trucking chose us as their provider. One thing that remains the same is our commitment to customer support.
"There's always someone I can reach out to if there's a problem," says Bunker. "All the way up to [Senior Director of Customer Support and Experience] Bobby Smith, there's someone there all the time. That's another big reason we stick with Zonar. We know they're reliable."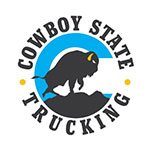 Organization
Cowboy State Trucking
Industry
Freight
Location
Kemmerer, Wyoming
Website
Operation
36 trucks, 120 trailers
Solutions
Integrations with Squarerigger Software & McLeod Software®
Benefits
Lowered CSA score to 12
Faster, verifiable vehicle inspections
Less physical record retention costs
Streamlined maintenance workflows
Automated IFTA calculations
Accurate driver pay for detention time
More fleet visibility, more load opportunities