What to look for in an ELD provider

The final deadline to comply with the FMCSA's ELD mandate is December 16, 2019. For companies who aren't exempt, compliance is mandatory. Choosing the right provider with the right solution sets you up for success. If either the technology or the provider is subpar, you face non-compliance and the penalties that come with it—including fines and higher CSA scores.
The motor carrier—not the ELD provider—is responsible for complying with the ELD mandate. Because carriers are ultimately responsible, they need to choose their ELD provider wisely and look for certain attributes.
Is FMCSA certified
The FMCSA puts this requirement at the top of its ELD checklist. The ELD mandate sets standards for commercial fleets and drivers who track and share records of duty status (RODS).
A compliant ELD solution needs to:
If a solution is not on the FMCSA's list, it may or may not be compliant. Our solution, Zonar Logs™, is third-party verified, tested and registered on the FMCSA's list.
Zonar Logs meets:
Title 49 CFR 395 Electronic Logging Devices and Hours-of-Service (HoS) Certification
AOBRD standards in Title 49 of the Code of Federal Regulations Part 395.15
Canadian regulations for Cycle 1 and Cycle 2
Has easy-to-use solutions
The easier an ELD solution is to use, the smoother its adoption and the easier it is for drivers to stay compliant. Ease-of-use also translates into:
smoother back-office operations
clear communications between dispatch and drivers
faster roadside inspections
Especially when the ELD solution is easy to use for three specific types of users.
Drivers
Need to electronically submit their HoS records, easily see their available hours and update their duty status. When they're approaching violations, alerts help them avoid violations.
Fleet managers
Need to view driver availability and performance, as well as each driver's HoS records. Ideally, fleet managers should also be able to view driver logs by day, week and month to spot trends in violations. If fleet managers can assign unidentified driver trips, the ELD solution makes their job that much easier.
Law enforcement
Need to easily view the driver's logs during vehicle roadside inspections. To make law enforcement's job easier and roadside inspections more efficient for both sides, the ELD solution should also enable drivers to quickly provide law enforcement an electronic record through email or other digital means on the spot.
Designs products with expert input
Designing and developing an ELD solution that ticks off the checkboxes of requirements is one thing. Building an ELD solution with direct input from experts who know the regulations is better.
Look for an ELD solution developed with extensive input from an expert who sees the solution from everyone's perspective. Also look for one backed by experts who participate in several associations, organizations and events to stay on the frontlines and inform policies.
Includes essential features in solutions
A quality ELD solution includes more than just the devices. Look for one that also includes features and functions to help ensure continued, uninterrupted HoS compliance, and minimizes the margin for error and violations.
For example, let's look at some features and functions of Zonar Logs.
Roadside View™
An exclusive feature of Zonar Logs, Roadside View makes it easy for law enforcement to view the driver's logs during a commercial roadside inspection.
Compliance Insights
Another exclusive feature of Zonar Logs, Compliance Insights is an effective, efficient dashboard available within Zonar Ground Traffic Control®. Compliance Insights provides access to key driver data such as live statuses, availability, performance and hours of service.
Automatic regulation updates
Zonar Logs automatically updates as regulations change, which they often will. Doing so saves you the time and trouble of keeping your ELD solution current yourself. Plus, automatically updating with regulation changes helps ensure that drivers and managers stay compliant—without interrupting their day.
Is a trusted provider
Since the ELD mandate was first published in 2015, a number of providers set up shop to make sales. Instead, look for a provider that's well established and has a history of putting customers first. These are the types of providers in which other industry heavy hitters invest.
They're also the providers to put at the top on your list.
For example, Zonar:
was established in 2001, with the goal to make the roads safer for everyone
announced its partnership with Daimler in 2011
became a Daimler minority investment in 2015
has been part of the Continental family since 2016
is line-fit on a number of partner vehicles, including Thomas Built Buses, Freightliner® and Western Star®
Zonar also has a dedicated team of experienced compliance and safety experts, who:
know the HoS regulations and ELD mandate inside and out
participate in several associations, organizations and events to stay on the frontlines
informed nearly every aspect of our ELD solution to make HoS compliance easier for drivers, managers and law enforcement
Few providers offer that kind of expert insight and support for ELD compliance. Choosing one that does sets you up for success and is better equipped to help you meet the December deadline.
Learn more
Time is running out, quickly. Whether you're still looking for an ELD provider or you're unsatisfied with your current one, you still need to ensure compliance by December 16, 2019. We can help you determine if our solution is a right fit. Contact us to learn more. No commitment, just a conversation.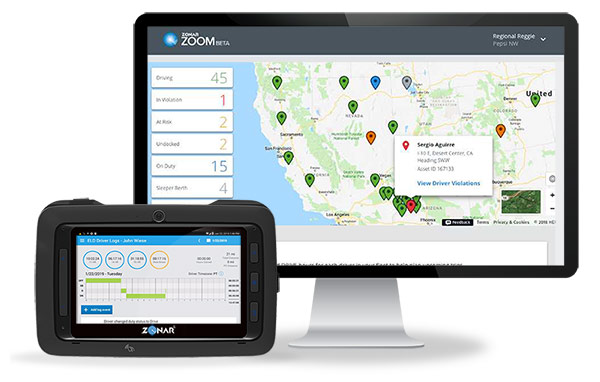 SUBSCRIBE
Subscribe to weekly news, articles and product updates containing educational tools and Zonar resources.